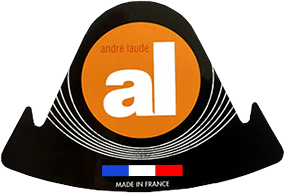 Luxury, Calm and Pleasure.
We take the greatest care in finishing our products.
About us
Master Dentellier since 1850, our company has a unique know-how in the Manufacture of French laces label, "Calais-Caudry", woven exclusively on our 40 Leavers looms in Caudry in the Hauts de France.
From its creation, our ancestor Mr Stephanie LAUDE, oriented the company towards the very high end. He had already understood that we are craftsmen of excellence. These craftsmen who move things forward by inventing new products and manufacturing processes to make our live more Beautiful.
We are the sixth generation at the head of the family business and the Stephanie's Adventure continues unabated! We are regularly represented on the biggest Fashion catwalks around the world : GUCCI, Dior, Saint-Laurent, Dolce & Gabbana, Chanel, GIVENCHY, VALENTINO, VERSACE…
The lace you have chosen is a noble Made in France material, labeled "Dentelles de Calais-Caudry", exclusively woven on our Leavers looms and with ORGANIC COTTON or FSC Rayon. Of course, with the greatest care hand finishing.
This allowed him to work with the biggest names in Couture of the time : La Maison WORTH, PAUL POIRET, JEANNE LANVIN, COCO CHANEL…
You have in your hands an exceptional, precious fabric!
Welcome to a new world of craftsmanship, perfection and beauty.
We are very happy to welcome you among us.
Jean Pascal LAUDE
President
News of Dentelles André Laude
Discover the collections of Dentelles André Laude
Our know-how has given birth to a very beautiful collection of Leavers lace including Chantilly lace, Guipure lace, small braids for inlay, woolen lace and of course a Premium collection with our hand-worked lace: beaded, sequined, calendered…